Description
Bioelements Gel Therapy 2.5 oz available now at BeautyStoreDepot.com.
Bioelements Gel Therapy 2.5 oz
With weekly use, Gel Therapy:
Hydrates parched skin
Locks in comforting moisture
Supplements skin's water-to-oil balance
Strengthens and soothes
Rapidly remedy dehydration with this supercharged mask that locks in comforting moisture as it does away with dullness. Laced with essential earth minerals and stress-resisting plant extracts, this 10-minute mask strengthens, soothes and balances your skin leaving it refreshed, revived and infused with much-needed moisture.
Directions:
Apply over entire face. Leave on 10 minutes. Wipe off with a damp cloth and immediately apply a Bioelements Moisturizer. Use as often as needed.
KEY INGREDIENTS:
SACCHAROMYCES/COPPER, IRON, MAGNESIUM, SILICON, ZINC FERMENTS: Essential minerals for healthy skin
GINSENG, SUMAC, GOTU KOLA, DONG QUAI AND WATERCRESS CHINESE HERBS: Strengthening and balancing plant extracts
FULL INGREDIENT DISCLOSURE:
Glyceryl Polymethacrylate, Butylene Glycol, Water (aqua) (Eau), Panax Ginseng (ginseng) Extract, Centella Asiatica (gotu kola) Extract, Angelica Polymorpha Sinensis (dong quai) Extract, Nasturtium Officinalis (watercress) Extract, Rhus Glabra (sumac) Extract, Saccharomyces/Copper Ferment, Saccharomyces/Magnesium Ferment, Saccharomyces/Zinc Ferment, Saccharomyces/Iron Ferment, Saccharomyces/Silicon Ferment, Diazolidinyl Urea, Iodopropynyl Butylcarbamate, Sodium EDTA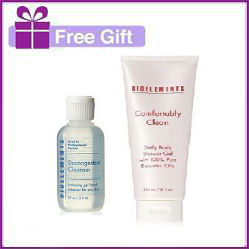 FREE GIFT!
Decongestant Cleanser & Comfortably Clean 1oz.
Spend $80 in BioElements and get 1 , spend $120 get both!
A $13 Value!