Description
Bioelements Power Peptide 2 oz available now at BeautyStoreDepot.com.
Bioelements Power Peptide 2 oz
Used daily, Power Peptide:
Adds youthful radiance
Revitalizes skin with renewing peptides
Boosts moisture
Brightens and refines skin tone
Peptides are nutrient-rich protein fragments that help skin cells perform better by communicating instructions to them like "slow down aging" or "produce more moisture." By saturating your skin with Bioelements Power Peptide prior to applying day or night treatment products, you'll signal it to increase moisture and absorb key anti-aging ingredients. Your skin will not only look more radiant and youthful, it will feel totally hydrated and revitalized.
Directions:
After cleansing, close eyes and spritz all over face, neck and v-area. Gently massage into skin leaving it slightly moist. Immediately apply the next Bioelements product.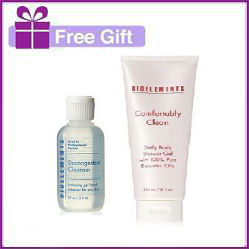 FREE GIFT!
Decongestant Cleanser & Comfortably Clean 1oz.
Spend $80 in BioElements and get 1 , spend $120 get both!
A $13 Value!