Description
Bioelements Great Skin In A Box Starter Kit – Sensitive Skin available now at BeautyStoreDepot.com.
Bioelements Great Skin In A Box Starter Kit – Sensitive Skin
Designed especially for sensitive skin, this kit helps comfort and calm skin irritation while deeply nourishing and hydrating for a healthier tone and texture. Bioelements Great Skin in a Box Starter Kit – Sensitive Skin: Three sensitive skin essentials, plus a free gift!
The kit includes:
Sensitive Skin Cleanser

(4 fl oz): An extra gentle sensitive skin cleanser with complexion-calming oils to melt away makeup, pollutants and excess sebum without any irritating side effects

Calmitude Hydrating Solution

(4 fl oz): A wetter than water, ultra-calming solution of white tea and licorice roots extracts that instantly relieve dehydration.

Calmitude Sensitive Skin Moisturizer

(4 fl oz): Created for intolerant complexions and formulated with a biologically advanced blend of desensitizing extracts, this moisturizer is free of irritants that can upset delicate skin.
FREE

Instant Emollient

(0.12 fl oz): An ultra-rich moisture stick for lips laced with soothing Bulgarian rose oil and chamomile aromatherapist oils plus vitamin E.

See individual products for full directions and ingredients.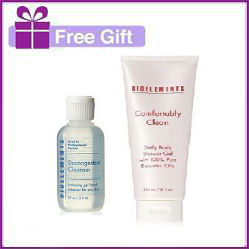 FREE GIFT!
Decongestant Cleanser & Comfortably Clean 1oz.
Spend $80 in BioElements and get 1 , spend $120 get both!
A $13 Value!