Description
GlyMed Plus Cell Science Superior C Renewal Cream 1 oz available now at BeautyStoreDepot.com.
GlyMed Plus Superior C Renewal Cream 1 oz
A velvety moisturizer and make-up primer with 10% vitamin C.
A potent and natural combination of vitamin C with lipid-soluble vitamins A and E that assist skin cells to accelerate the production of collagen and repair cellular damage caused by daily UV exposure.
Key Ingredients:
Ascorbic Acid: Vitamin C is considered the most important water soluble anti-oxidant and acts as a free-radical scavenger.
Tocopherol: A powerful antioxidant and soothing agent that protects skin from the effects of pollutants and free radicals. Helps maintain and strengthen other anti-oxidants in the formula and in the skin, while at the same time acting as an anti-aging ingredient.
Retinyl Palmitate: A primary anti-oxidant, free radical scavenger and cell renewal ingredient. Acts as a skin normalizer with the ability to either moisturize dry skin, or reduce excess oil in the skin.
Directions:
Apply to entire face area and down the neck. Use under makeup to fill in fine lines for a more smooth application.
Ingredients:
Cyclomethicone and Dimethicone Copolymer, Ascorbic Acid, Tocopherol, Retinyl Palmitate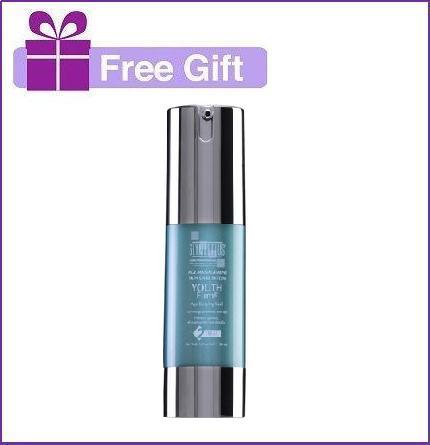 FREE GIFT!
Purchase $250 or more in GlyMed Plus products and get a FREE
GlyMed Plus Age Management YOUTH Firm Age Defying Peel
A $96 Value!